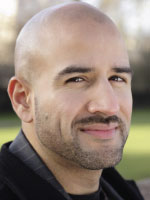 Writer & Journalist
Sunny Hundal is a writer, journalist and campaigner. He has written for the Guardian, Times, Independent, Financial Times, Metro, Al-Jazeera and the New Statesman on subjects ranging from national politics, the media industry, the environment and race-relations.
Last year he wrote an ebook for Guardian Books called 'India Dishonoured', on violence against women in India.
He is a Journalist-in-Residence at Kingston University, where he teaches Digital Journalism part-time. In late 2013 he was named the 31st most influential Tweeter in the UK.